Artist: Attack Attack!
Song Title: Stick Stickly
Release Date: June 4th 2009
Genre: 'Electronicore'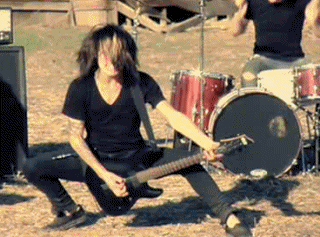 The video is mainly a performance video with a bit of narrative tied in with it. The video takes place in an arid, abandoned area. The video is shot inside and on front of an abandoned house with dead trees in the distance. This location is shot to show the loneliness of the female character and to show isolation. This video has went viral for all the wrong reasons due to the song being terrible and as cookie cutter as possible, and the bands stands and synchronised moshing, which is now known as 'Crabcore'. The band however received massive amounts of fame on the internet which sky rocketed them, as it's said any press is good press.
This video is a perfect example of viral music videos, due to it being the butt of so many jokes on the internet. The vocalist at the time said that "The band has embraced the meme" and were using it for publicity. Many other videos do this they add a simple movement or dance which can be copied and recognised as the dance or movement from that video by other people.
The video follows the codes and conventions of most music videos by adding lip synching and a focus on the frontman or singer of the band. The video tends to focus on either one of the singers and also has individual shots of each band member and close ups on their instruments. there are also a number of shots which focus on the entire band.
The editing of the video is extremely fast with some takes only lasting half a second or less. There are a few video transitions including fading and fading out there are also shots which are edited to look damaged and jarred.