Parkway Drive are an Australian metalcore band, formed in Byron Bay in the year 2002. Blasting out of Byron, almost as an affront to the serenity of their surrounds, Parkway Drive quickly established themselves as the most formidable force Australian heavy hardcore had ever seen, here's their brief history.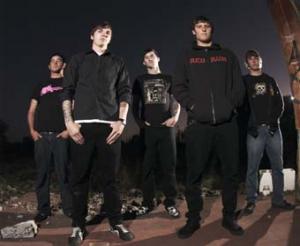 2002

- The band begin as a five piece, with the lineup of Winston McCall on vocals, Luke Kilpatrick on guitar, Ben Gordon on drums and Brett Lagg on base. Their name is taken from the address of the band's first rehearsal area that the drummer owned in Parkway Drive, Byron Bay. The band quickly enlisted Jeff Ling, another local surfer (all of Parkway are surfers and spend a lot of their time away from the band doing this pastime) and began playing shows around their local area.
2003

- The band start recording demos with other bands around the area, principally I Killed The Prom Queen, another local metal band that Parkway were friends with, and they recorded a split EP with them, I Killed the Prom Queen/ Parkway Drive: Split EP and they begin playing more shows once they gain slightly more recognition.
2004

- The band record their first proper EP, entitled Don't Close Your Eyes. It is the first issue from the band and was somewhat of a collector's item, before it was re-issued in 2006, but the latter contained a few more tracks, such as the ones found on their EP with IKTPQ.
2005

- Parkway Drive release their debut album, Killing with a Smile, through Resist Records. It was produced byAdam Dutkiewicz of Killswitch Engage and written by Parkway Drive, while some guest vocals were included. The band also released a video for the single "Smoke 'Em If Ya Got 'Em". It was received very well in Australia's metal scene and established a foothold for the band in the metal market, and began playing tours around the area. Around this time, Parkway started playing more and more shows with more high-profile bands, such as The Acacia Strain and Suicide Silence.
2007

- In early March, the band unveiled two new songs, The Sirens' Song and Carrion, which feature on the then-unreleased album, Horizons. The band began previewing more songs from the forthcoming album on a tour they did in August and October. Once Horizons came out, it was critically acclaimed by both critics and fans alike and was awarded high reviews in the local magazines of the area, and indeed worldwide because Parkway had made a huge global impact by now. In May 2009, Parkway Drive announced that they would be releasing a live DVD and an Australian tour was also announced with August Burns Red and Architects in support of it. Horizons is to date their best selling release, with the album reaching multi-platinum status in Europe.
2010

- Deep Blue - In March 23rd, Parkway began recording the follow-up to Horizons, Deep Blue. It is somewhat of a concept album, detailing the life of a man who is trying to find the truth in a corrupt, decaying city, and it has been dubbed as their heaviest record to date. According to a blog posted on 8 April 2010, Parkway Drive were half finished with rhythm guitars, bass and vocals for the upcoming untitled album. On 17 April 2010, Parkway Drive officially announced that they finished recording the forthcoming album, and added a studio diary video to their Myspace. Videos have since been made for Unrest, Sleepwalker and Karma. On 25 June, Parkway Drive's Deep Blue was released onto the Australian iTunes Store. After four hours since the point of the album being released, "Deep Blue" reached the Second position on the iTunes Album Charts in Australia, with Eminem's Recovery album seizing first position. Deep Blue was released in the United States and Canada on 29 June, now making it available worldwide. After Warped Tour, Parkway Drive began their Australian headlining tour with The Devil Wears Prada, The Ghost Inside and 50 Lions.
Present day

- In an interview with NME, McCall discussed a possible 4th album. Winston is quoted as saying, "We've got ideas for this record that are bigger than anything we've done in the past. We're trying to pencil it in, but we want to get in the studio sooner rather than later." The album is set for a 2012 release.